Kshaveworx The Aficionado
This is an initial review of the soap "The aficionadio" from Kshaveworx.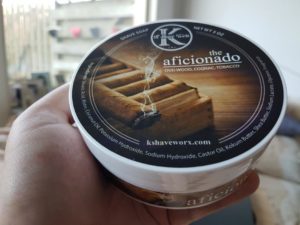 Ever since I smelled a particular "cologne" in Germany while I was looking for a job, it stuck in my mind and I will not be satisfied until I find it once again!
I remember the aroma, full of smoke … heavy sweet smoke"ish" cigar with leather.
I can not really say that this soap is close to what I smelled back then, but!
The bowl
Kshaveworx is not stingy. It is a good quality plastic with an elegant adherent decorative sticker on the lid but also around of the bowl, also note, it seems that it is waterproof …
The aficionado is at 5 oz or more or less of 140 grams.
Scent
The aroma is something else!
Warm, sweet, with enough dose of tobacco. The aficionado of Kshaveworx was approved immediately by the #1 and #2 auditors (wife & daughter) with the first smell…
Shaving
It was easy to load on the brush and with a relatively small strokes of the brush with face lathering I was able to produce a lather for 3+ passes.
The lather was slightly runny, but at the end it was good enough.
The fragrance is intense, pleasant and stable throughout the whole shaving process.
At the end of the first pass in the area under the nose (mustache) began to feel a slight burning. And it became more intense (but not annoying) until I shaved my mustache.
In the 2nd pass (and 3rd) the "burning" returned but on the entire area of ​​the face (where it had lather). Warming it in some way.
Finishing
Now I smell the aroma of the homonymous after shave lotion in my hands…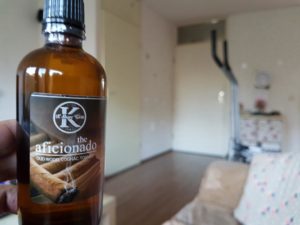 Soon with a more extensive review…