Visiting Japan
On the occasion of my yearly visit to cherry blossomed Japan, I decided to extend my travel horizons and attempt to get in touch with locals involved in wet shaving (barber hop). Two years ago, I had done the same with another hobby of mine (pipe smoking) and the long evening I spent with the members of a south Tokyo pipe club will forever be one of my most memorable and heart warming Japanese experiences.
Wet shave in Japan…
To my surprise, my pre-departure search, revealed no shaving clubs nor in Tokyo or in any other major japanese city. Googgling here and there, I soon realized that despite the kamisori tradition, wet shaving as a hobby is still embryonic in Japan and organized communities are non-existent.Therefore, my only way out was to contact field professionals – this was on my mind anyway, in order to promote my work.
Looking for a barber shop
The typical barber shop in Japan is shaped exactly as know it in Greece. Small in size, mainly situated in residential areas and of a highly personal character. Of course, higher end barbershops do exist, offering premium services to financially comfortable people and expats.
This category includes hip areas' shops that have been affected by the recent trend of transforming the old fashioned barbery into a stylish shop, as well as some ultra luxurious establishments that provide their services at impossibly high prices. A good example of the latter is the barber shop situated inside Dunhill's three-storey flagship shop in Ginza).
The cost of a full visit (haircut plus shave) starts at around 2,500 yen (about 20 €) for suburban stores, doubles in fancy barbers and exceeds 10,000 yen in Dunhill styled places.
Finally!
Through a Japanese friend, I tried to get in touch with several of upmarket establishments and arrange a visit to present my brushes. Miraculously, one of them responded to my request and agreed to use/test my brushes on a paid visit, as well as to allow me photograph the whole experience.
For those familiar with the Japanese reality (aka the stiffness in handling newly made contacts and their total denial against being exposed electronically, this was really a grand feat indeed.
The Barber shop
The meeting was held for 11 am. I arrived armed with seven briar brush bases plus
all the knots that I use.
I was welcomed in the store's entrance by my suit clad barber, who then led me to a private room, where we would talk and then shave. Everything in the room (unfortunately my friend did not shoot enough pictures) was exhilarating.
The airy size, the totally luxurious finish, the extensive use of wood in the decoration and the leather armchair I was sitting upon. But most of all, the hifi system. Honestly, I had had never imagined that I would get shaved escorted by jazz music out of a tube amplifier and high end speakers…
Preparation
While I was getting seated comfortably on the armchair, my brush (which had already been handed over to the barber) was taking his hot bath along with the rest of the shaving tools.
For my presentation, I chose a simple base design loaded with the silvertip knot of Men's Only LE brush.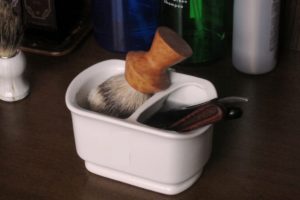 As soon as the armchair reclined to an almost bed configuration, the barber covered my face with hot towels and then applied some kind of thin pre-shave oil before proceeding to the lather phase.
First pass
Despite my expectations, the initial soap layer was rather thin and unprotective.
The shaving that followed however, was not carried out by a blade. A Feather-made crossover tool (knife handle with a disposable set of blades) was used instead.
The facial hair removal begun from the forehead area – do not ask why, it is one of the grand mysteries of the Universe (especially in my case). In the mean time, a hose was sending thick clouds of steam to my face, most probably so as to have it properly moisturized throughout the shaving process.
The mask on the
barber's face was an interesting japanese-only detail. I firmly believe that this was done in order to protect the client from the barber's breath (and vice versa).
Second pass
The second pass of lather was kinda richer and then a Kai knife was used.
It immediately became clear that my barber was using it quite professionally, with very short blade strokes that were never made the presence of the blade 'known' to my skin or gave me any kind of scratchy feeling.
After shave
The shave was followed by a hot towel 'assault'
on my freshly cleaned face. Following that, an oily after shave lotion was applied, which helped the 'master' finish his job with a quick face massage.  
The final stage of my Nippon barber experience was an upper back and shoulders massage. No photos of me on this place, as I literally 'melt' during the process…
Overall and final thoughts
The whole experience was totally enjoyable and literally 'extinguished' any connection I had to the outside world.
I kept some notes though, first one being the lack of attention in the throat area (the job done there was simply not as good).
The fact that I was not shaved against the grain also surprised me. Finally, I feel that I need to leave another comment on the sparse use of lather. This was something rather unexplainable as I have seen plenty of videos of Japanese barbers, producing richly lathered faces – I guess that there is always a trade-off when choosing between a basic place to get shaved clean and a posh place to get shaved and pampered at the same time.