Mudder Focker from Razorock is a tallow based croap (cream/soap) with a scent really close to "Giorgio Armani Code" for those that are familiar to it.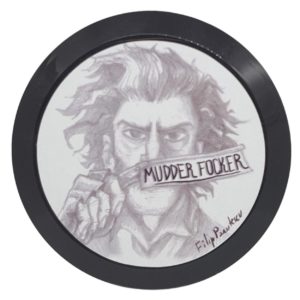 Scent Pyramid
Top Notes: Bergamot, Anise, Pineapple
Heart Notes: Jasmine, Violet
Base Notes: Amber, Musk, Sandalwood, Vanilla, Hay, Tonka Bean, Patchouli, Thuja
Ingretients
Aqua(Water/Eau), Stearic Acid, Cocos Nucifera(Coconut) Oil, Tallow Acid, Potassium Hydroxide, Sodium Hydroxide, Parfum(Fragrance), Solum Fullonum(Fuller's Earth), Benzyl Salicylate, Coumarin, Linonene, Linalool, Hydroxyisohexyl-3-Cyclohexene Carboxaldehyde (HMPCC), A-Isomethylionone.
Mudder Focker…
It is about a new line from Razorock based in tallow. The name is clearly a "mutation" (we do not recommend googling for the correct word, you where warned!) and the creator of the soap name it saying "Mudder Focker", refering to the the post shaving result the soap offers.
The thing that might impress but also make you curious is the ingredient "Solum Fullonum",  a sort of thermal/healing mud/soil that is found in Italy, where a lot of locals visit to treat their health problems. The soap is very is to work on with the shaving brush, giving a good thick and slippery lather. The post shave properties of the soap are flawless, in such degree that the after shave looks unnecessary.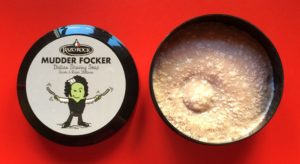 As you can see in the picture it's texture is different because of the peculiar ingredient we mentioned. The coverage and protective attributes that it offers are quite high and it can easily surpass much more expensive shaving soaps. The prise is not that hight for the given quality and the package contains 150 ml 5oz . IMHO is that this might be the best value for money soap performance wise from Razorock which surpasses even the most popular xXx again from Razorock.
Finally
Τhe scent as I said earlier reminds me the Italian high quality perfume and under no circumstance you get the aroma of soap. It can be perfectly combined with the already mentioned cologne from Armani, but! Razorock also offers the corresponding splash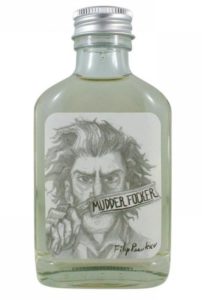 With cost just around 10 € it simply couldn't be considered as a bargain. It is a soap that anyone should have in hes den because of the originality, it's look and the properties of the soap.